THE EU SONGBOOK ASSOCIATION:
Board 2017-19: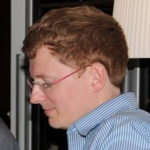 Chairman and lyrics editor
Jeppe Marsling, born 1974, Denmark
Graduated his secondary education from Sct. Annae Music High School after which he was elected president of OBESSU, Organizing Bureau of European School Student Unions. After studying Philosophy at Roskilde University, he published a children's book and essays and has been editor of culture and editor in chief of the Copenhagen Newspaper (2006-09). In 2006, he wrote the lyrics for the choir piece Hymn for Human Rights (put into music by Francesco Cali). Currently he is Editor for Europe on the internet magazine Netudgaven.

Vice chairman and lyrics editor
Jon Egeris Karstoft, born 1992, Denmark
Student of economics at the University of Copenhagen. He has lived in both France and Germany. In 2011, he co-founded the youth wing of the SSW, the party of the Danish minority in Germany. Two years later, he was the European delegate of the youth wing, joining in on the debate in the European Free Alliance. When he doesn't study, he writes about European politics for Ræson, a Danish international affairs magazine, and co-organises the Song Marathon, a major open air event in Copenhagen.

Secretary and music editor
Francesco Cali, b. 1966, Italy
Educated as pianist and composer from the music conservatory in Catania.
Since 1991 he has published many works, both classical and jazz, instrumental and for choir. (Among those Hymn for Human Rights with Chamber Choir Hymnia (with lyrics by board member Jeppe Marsling). Having won the international competition "Pepinières Européennes pour Jeunes Artistes" he was invited to the music Conservatory in Copenhagen. He now resides in Copenhagen where he has established his family.

Treasurer
Jens Svane Boutrup, b. 1973, Denmark
Since he was educated as s stage director (MFA) from Brooklyn College in New York, Jens has both dramatised and translated several plays, both for children and adults. Recently Border Syndrome, a drama based on A Short Border Handbook by Gazmend Kapllani. From 2005 through 2008 he was head of the Theatre Momentum. Since 2008, he has been the head of Bornholm's Theatre.
The 28 EU Songbook National Editors, Academies and Associations:
Spain:  Julio Alexis Muñoz, director, and Carmen García Jiménez, head of studies, Escuela Superior de Canto de Madrid (ESCM)
Slovenia: Dušan Bavdek, composer and Ass. professor/Vice dean of international activities, Academy of Music, University of Ljubjlana, as well as board member Slovene Society of Composers (DSS)
Croatia: Jasenka Ostojić, Head of depart. of Conducting, Harp and Percussion Department, University of Zagreb Music Academy,
Slovakia: Eva Čunderlíková, Secretary General, Slovak Music Teacher Association (AUHS), Academy of Music Bratislava (VŠMU)
Czech Rep: Hanuš Bartoň, head of the department composition, Academy of Performing Arts in Prague (AMU)
Romania: Dr. Grigore Cudalbu, Romanian National Association of Choral Music (ANCR), National University of Music, Bucharest (UNMB)
France: Jacques Moreau, director, CEFEDEM Auvergne Rhône-Alpes
Germany: Prof. Ekkehard Klemm, president of Association of German Concert Choirs (VDKC), Head of Conducting Department, University of Music Dresden
Hungary: KÓTA, National Association of Hungarian Choirs and Orchestras
Malta: Dr. John Galea and Dr. Albert Pace, University of Malta, School of Performing Arts
Portugal: Jorge Alves, "Association of choirs in Lisbon", and Manuela Encarnacao, Association of Portuguese Music Teachers (APEM).
Luxembourg: Fédération Nationale de Musique du Grand-Duché de Luxembourg, (UGDA)
Belgium: Koor & Stem, Dutch speaking choir association / La Fédération Chorale Wallonie-Bruxelles A Cœur Joie (FCWB), French-speaking
Finland: Reijo Kekkonen, publishing director, and Virpi Häyrinen, executive director, SULASOL, The Finnish Amateur Musicians' Association
Lithuania: Arvydas Girdzijauskas, conductor, board member, Lithuanian Choral Union Advisor: Aurelija Andrejauskaitė, Head of Music Division, Lithuanian National Culture Centre
Estonia: Kaie Tanner, Secretary General, Estonian Choral Association Kadi Härma, Estonian Society for Music Education
Ireland: Maria Judge, Head of Musicianship and Academic Studies, Cork School of Music (CIT)
Netherlands: Lieuwe Noordam, Prince Claus Conservatoire, Groningen Christiane Nieuwmeijer, University of the Arts in Utrecht
Bulgaria: Prof. Toni Shekerdzhieva-Nowak, Vice-Rector of Scientific Activities, PhD, Academy of Music, Dance and Fine Arts – Plovdiv
Italy: Prof. Stefano Sanfilippo, pianist, conductor and Erasmus coordinator, Conservatory of Music "V. Bellini" Catania, Sicily
The UK: Prof. David Saint, former principal of Birmingham Conservatoire
Austria: Dr. Helmut Brenner, University of Music and Performing Arts, Graz (KUG)
Cyprus: Pitsa and Egli Spyridaki, Directors, Arte Music Academy
Greece: Thomas Louziotis, President, The Hellenic Choirs Association
Latvia: Rūta Kanteruka, president, Latvian Music Teachers' Association (LVIIMSA)
Poland: Prof. Marcin Tomczak, Head of Choir Conducting Department, Stanislaw Moniuszko Music Academy in Gdansk
Sweden: Susanne Rosenberg, Head of Folk Music Department, Royal College of Music in Stockholm
Denmark: Toke Odin Brorson, choir conductor, MS in composition/music science, Royal College of Music Copenhagen